Share PriceFish!
How to install Pricefish plugin for WordPress
=====================
Pricefish could be easily installed using our pricefish wordpress plugin.
Just follow our 7 steps installation and you are ready to go!
———-
Installing Pricefish plugin
———
1. Download Pricefish pricing table and page generator from : http://wordpress.org/plugins/pricefish-pricing-tables/
OR go to your WordPress Admin Panel and click on Plugins » Add New
2. Type in the plugin name or function, Pricefish like we did. Then you will see the following:



3. Click on 'Install Now'.
4. Click on Activate plugin.
Adding Pricing page or table to WordPress page or post
———
1. Go to any post or page and click on the Pricefish icon  


2. Insert the project guid you copied from http://my.pricefish.com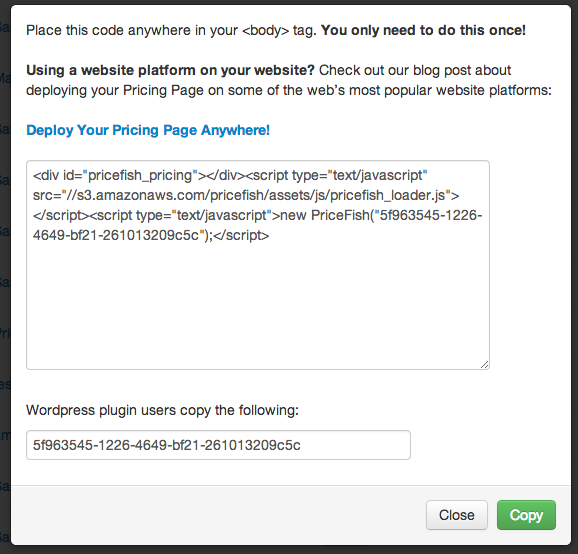 3. Save the page / post.
4. That's it!
Comments:
Our plugin support shortcodes , you could simple insert the following :
[pricefish projectid="Project GUID"]